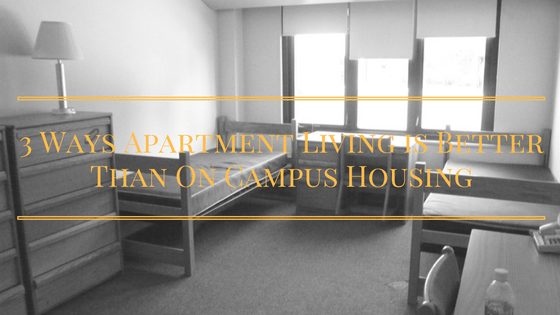 On campus living offers several advantages. There's no doubt about that. But in addition to being minutes away from your classes, choosing a meal plan according to your needs and creating long-lasting friendships with your roommates, living on campus comes with several drawbacks, such as a small dorm space, shared bathrooms, lack of privacy, constant distractions and the list could go on.
If you're just starting your college life, one important decision you'll have to make is whether you want to live off or on campus. Though there are many upsides to apartment living, here are the top three reasons why many college students prefer to live off campus and commute.
Privacy – While you might need to rent an apartment together with one or more apartment mates, you'll still have your own bedroom. This will afford you more space and privacy, which can be hard to come by in a dorm you'll be sharing with a roommate. In addition, having a room all to yourself means that you'll be able to study whenever you want, without any distractions. If you choose to rent an apartment, you'll also have your own bathroom, which is one of the most appealing things about living off campus. What's more, apartment living typically comes packed with a range of attractive amenities. For instance, all of our Destin apartments are equipped with heavy duty washers/dryers, dishwashers and refrigerators with icemakers, while our apartment complex includes a beautiful Clubhouse, swimming pool, sun deck, lighted tennis court, gym, saunas, picnic and car wash areas.
Fewer Restrictions – Needless to say, off campus housing alternatives offer the freedom any college student wants. While those living on campus must comply with regulations that are strictly enforced, including rules on visitors, gender restrictions, quiet hours and apartment inspections, a student choosing off campus living will enjoy more freedom. Now, we're not saying that off campus housing residents don't have to comply with any rules; after all, there is a lease agreement they must abide by. However, the rules are much more lenient. For instance, you can choose who you live with, have people over, get the furniture you want and even decorate the way you want.
Food – Only a few students are fortunate enough tot live in dorms with basic kitchen facilities for student use. Most on campus housing options have residence halls, with limited food choices like salad bars, sandwiches, pizza, etc. But even if you have access to a kitchen, you'll often need to wait for others to finish cooking before you can prepare your meal. On the other hand, if you live alone or have only one apartment mate, you'll be able to prepare your favorite dishes whenever you want. Besides offering flexibility, having your own kitchen will make college cooking much better, with healthier meals compared to on campus dining.
Although it may come as a surprise to many people, apartment living is often more affordable than on campus housing.
Another thing many residents at our Sugarloaf Luxury Apartments complex love about off campus housing is that it provides a wide array of choices both in terms of apartment size and location. For instance, if you need more bedroom, storage and living space, or you want to rent an apartment with a friend, you can opt for one of our two- or three-bedroom luxury apartments. If you like living alone, feel free to contact us at (850)-837-3131 today to inquire about our one-bedroom apartment options.
Coming down to location, our Sugarloaf Luxury Apartments complex is strategically located not only close to numerous colleges, universities and libraries but also close to the beach, grocery shops, shopping centers, bowling centers, restaurants, theaters, parks, pharmacies and hospitals.