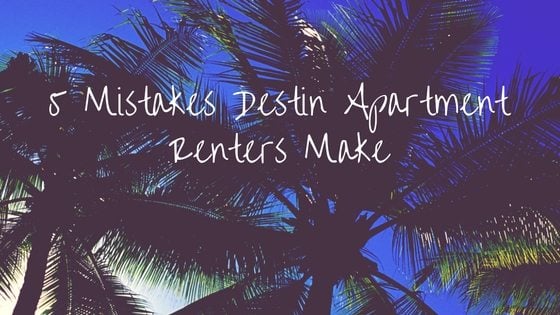 You must be really excited. After all, you're gearing up to rent your first apartment in the idyllic beach town of Destin, FL. For many people, however, renting a place they love in a good neighborhood and at a price they can afford isn't easy. That's because most first-time renters make a series of mistakes that prevent them from getting their dream apartments.
The best way to deal with rental mistakes is to avoid them altogether. But since you can't avoid what you don't know, we've gathered the five most common mistakes people make when apartment-hunting.
Mistake #5: Overlooking existing damage.
Prior to moving into your new Destin apartment and unpacking your things, ask the property manager or the landlord to inspect the unit with you. During the walk-through, document all the issues you observe on a checklist, including stains or holes in the carpet, scratches on the walls and problems with appliances. To be on the safe side, enable the date and time stamp on your camera and take photographs of all the damaged items and areas. After filling out the checklist, ask the property manager to sign it and hand a copy over to him.
Mistake #4: Making a hurried decision.
The competition in the rental market has increased constantly since the economic crisis of 2007-2009. Although rentals are less plentiful and other renters may also be looking for a Destin apartment, don't let the scarcity mentality convince you to sign the lease without checking the apartment and the neighborhood. A few things to consider before renting an apartment include its size, features, outdoor amenities, transportation options and neighborhood safety.
Mistake #3: Focusing solely on rent.
Before you even start looking for a Destin apartment, you need to know exactly how much rent you can afford. But focusing exclusively on rent will prevent you from taking into account other important aspects. For instance, an affordable rental unit isn't always the best choice. That's because you might need to cover parking fees, commute a long distance to work, drive to a laundromat every week and the list can go on. Since a series of aspects can frustrate you on a daily basis, make sure you consider everything before signing on the dotted line.
Mistake #2: Being too picky.
Many people make a list of things they want in their apartments and never settle for less. However, you should be prepared to compromise on some things, or you may never find a place to stay. This aspect is very important considering that you can hardly find a rental that falls within your budget, has all the amenities you want and is close to the places you love.
Mistake #1: Failing to read the lease (including the fine print).
In the excitement of finding a Destin apartment you really love, it's easy to gloss over the details of the lease agreement. But reading the lease carefully before you sign it is far more important than renting your dream apartment. To avoid ending up in an undesirable situation, make sure you go over a few aspects such as the length of the lease, the amount of the security deposit, the actual rent amount, other costs involved, rent due date, guest, pet and subletting policies, penalties for late payments and special clauses. The lease should also include any repairs the landlord has agreed to do at a later date. Just to put your mind at ease, getting out of a bad lease is possible. But doing so often involves a lot of hassle and may come with financial penalties.
Located in one of the best neighborhoods in Destin, FL, all of our apartments feature upscale finishes and amenities, and provide convenient access to great shopping, dining and entertainment options. In addition, the prompt and personalized service from our helpful staff has turned our Sugarloaf Destin Apartments complex into a one-stop rental solution. For more information about our current availabilities and services, please call us today at (850)-837-3131.