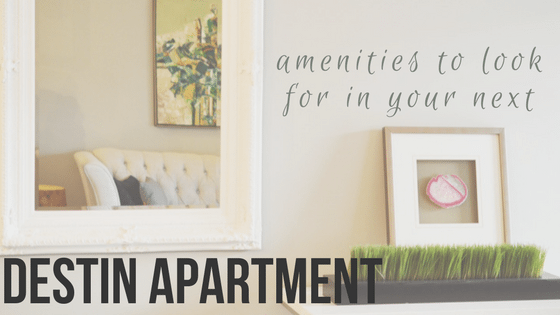 Choosing the perfect Destin apartment can be time-consuming and tricky. I mean, you can't really go wrong. You ARE in Destin, Florida. However, finding the right location within Destin can prove to be a challenge. Do you want to live closer to your job or closer to the beach? Obviously, if you choose the apartment with the amazing views of the Gulf of Mexico, you should prepare to fight tourist traffic from Spring to Fall. You can still have amazing views without being directly on the beach. There are many things to consider when choosing your new abode.
We've put together a list of amenities available in various apartment communities. Read through them and decide which are your must-haves and which ones you could live without in your new Destin apartment:
Parking
Are parking spaces assigned to each apartment?
Is covered parking available?
Are garages available?
Are electric car charging stations available?
Are bicycle lockers or racks on grounds?
Pets
Are there breed restrictions?
Are there weight restrictions?
Is there a dog park?
Is there a dog bathing station?
Are exotic pets allowed?
What are the pet fees?
Laundry
Are washers and dryers available in the apartment homes?
Are w/d hookups available within the apartment home?
Is a 24-hour laundromat available on grounds?
What are the costs to use the laundromat?
Is a Laundry Service available?
Kitchen
Do the kitchens have dishwashers?
Do the kitchens have microwaves?
Are high-end appliances available?
Miscellaneous within the Apartment Home
Are fireplaces available? Not that you really need one in Destin.
Do the apartments have private balconies?
Are wood or wood-like floor upgrades available?
Do the apartments offer any kind of exterior storage?
Are ceiling fans and overhead lighting available?
Are cathedral ceilings available?
Getting techy
Do outlets have charging USB ports?
Do the apartments have smart controls?
Does each apartment have Wi-Fi or Wi-Fi access?
Is high-speed internet available within the apartment homes?
Is cable or satellite TV available?
Leasing Office
Are there online options for leasing, rent payment, and submitting maintenance requests?
Is there a fitness center or spa available?
Are yoga or exercise classes offered to residents?
Is there a pool? Are you allowed to bring guests?
Does the Community Center offer:

Billiards room
Office space / equipment for resident use
Media room
Party or conference room
Tanning beds
Community events or classes

Does the property offer:

Playgrounds
Basketball courts
Tennis courts
Walking or bike paths
Babysitting / afterschool services
Security cameras / Security Guard
Gated access
Recycling center
Valet trash or doorstep recycling collection
Car wash stations
You may want to print this list to take with you as you tour the apartment communities you're considering. Do keep in mind that many high-end upgrades normally come with a high-end cost.  When you're ready to meet with us, give us a call. We look forward to introducing you to your new Destin apartment home. Happy Home Hunting!