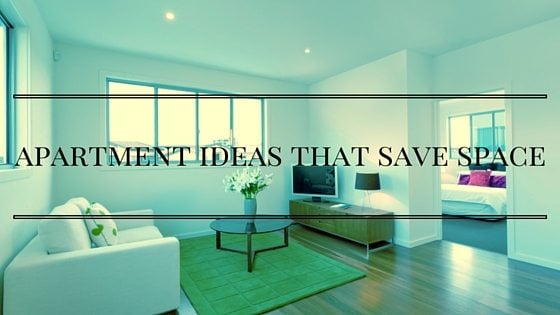 Space constraints are a painful reality of modern life. But that's not the only reason why traditional furniture, which takes up a lot of floor and wall space, is about to become a thing of the past. More and more people are looking for ways to squeeze out every inch of usable space, no matter how small or big their homes or apartments are.
Contrary to what you may have been told, living in a small apartment isn't an obstacle to chic interior design. In fact, furniture "wizards" have come up with some brilliant apartment furniture ideas that can enhance interiors, while making them look more spacious and airy. Here are our top furniture picks that can help you turn your apartment into a highly functional living space.
Wall Beds
Wall bed systems allow you to completely transform the way you use your space. For example, a multifunctional wall bed can effortlessly become a desk, a sofa or a small kitchen island with a dinner table attached to it, or it can be seamlessly integrated into existing furniture, including TV sets, bookcases, or wardrobes to free up space in a small room. In addition, you can always opt for standard sofa bed designs with ample storage space underneath or for the latest innovations, such as sofas that can be flipped up into bunk beds with a simple gesture.
Transforming Tables and Desks
When it comes to multifunctional apartment furniture, space-saving table options range from tables that can be folded up and used as small corner tables or stored against walls to compact dining sets, consoles and coffee tables that are height adjustable and can extend into full dining tables. Furniture manufacturers also make available a wide range of kitchen islands, which can become dining tables, and desks that come with built-in lighting and cable management systems, and can be converted into cabinets when not in use, concealing work in progress. Obviously, you don't need to live in a small apartment to want such versatile pieces of furniture.
Folding Chairs
The folding chair isn't a new interior design concept; however, the standard chair has been redesigned to fold completely and take up even less space. While some chair models fold neatly into sleek, flat packages that are less than one inch thick, others can go from one-seater chairs to multiple-seater benches or transform into tables.
Space-Saving Shelving
Especially for book lovers, furniture designers have created vertical bookshelves that can accommodate many volumes without taking up too much floor or wall space. Another great space-saving apartment furniture idea is the dining room set that fits into a shelf. To save even more floor space without compromising storage space, you can install shelving above your sofa, cabinets, desk, etc.
Our space-saving apartment furniture selection would be incomplete without expertly engineered furniture for which the word "multifunctional" is an understatement. Not only do these pieces allow people to make the most of every square foot they have; the right choices can also be cool additions to any home or apartment, landing rooms a truly futuristic vibe.
If you're looking for beautiful Emerald Coast apartments for rent, we invite you to give us a call at (850)-837-3131 or schedule a personalized tour at our Sugarloaf Luxury Apartments complex in Destin, FL. Our courteous professionals are ready to assist you in every way possible and answer any questions you may have regarding the area and our apartments.