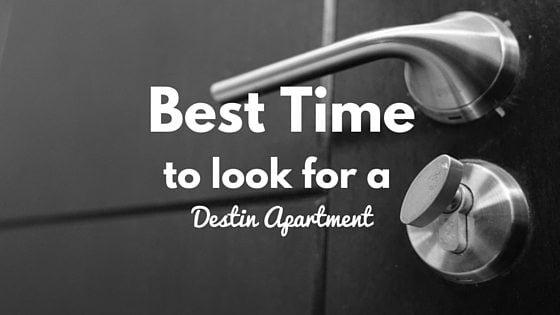 When is the Best Time to Look For a Destin Apartment?
Whether you're a novice or an experienced apartment hunter, it doesn't hurt to consider a few things before starting to look for a Destin apartment. One of these things is timing. When exactly should you start your search for an apartment in Destin, FL, to get a really good deal? To give you a comprehensive answer, we'll analyze this question from two different perspectives.
1. The Best Time to Rent a Destin Apartment
Many people claim that winter is the best time to get good rental deals. While this may be true to some extent, the number of apartments available for rent is typically lower during the winter months than at other times of the year. This means that searching for an apartment between November and April will limit your choices. What's more, in case of a sudden, unexpected relocation in the winter, you may end up paying for an apartment you don't really like.
In most U.S. cities, the housing inventory begins to open up in mid to late May. Destin is no exception. Since apartment turnover is higher from May through September, summer is undoubtedly the best time to rent an apartment in Destin, FL.
But there is one catch to this: many families with children prefer to move during the summer months in order to allow their children to finish out the school year. Though this usually leads to increased competition and higher rental prices for three-bedroom or larger apartments in the summer, that's not always the case. At Sugarloaf Luxury Apartments complex, for instance, we maintain the same attractive rental rates throughout the year.
Assuming you have the flexibility to pick the month you'll move, it's also essential to know that early summer temperatures are more accommodating to relocating to Florida especially for someone moving from a cooler or drier climate.
2. The Best Time to Start Looking for an Apartment when You Know Your Moving Date
A good rule of thumb is to start looking for a Destin apartment about two months before your moving date. Let's say, for example, that you're looking for a September 1st lease date. In this case, you should start searching for a new apartment in mid-July. This way, you have plenty of time to find an apartment you really like. If you need to move out of your current place right away, you may be able to find a short-term rental or live with a relative or friend until you find the right Destin apartment for you.
We also recommend that you start your hunting process as close as possible to the 1st of the month. As most leases expire at the end of the month, new Destin apartment vacancies are commonly posted around the first day of the month. Another piece of advice is to opt for a longer lease, as this may bring you a lower rental rate.
While we can understand that searching for an apartment during the summer months may not be very appealing especially due to the higher demand and rental rates, it might be the only way to find a great apartment, ideally located in a desirable neighborhood.
Whether you're looking for a small or large Destin apartment to rent, you've come to the right place. All of our apartments promote luxury resort living in a cozy home style environment with plenty of restaurants, shopping and entertainment options nearby. For further assistance, please don't hesitate to reach out to our friendly and professional staff by calling (850)-837-3131 or emailing [email protected].