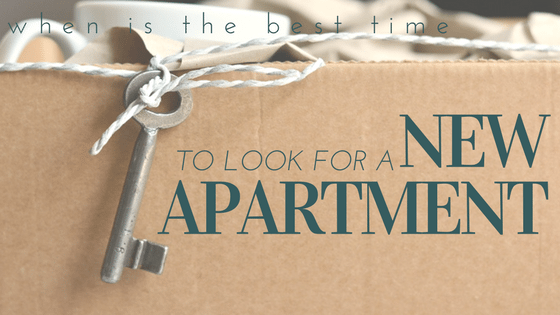 You've started looking at apartments for rent. There are so many factors to consider when it's time for your move. It all comes down to priorities. Do you want to save some cash by scoring a great move-in deal? Would you rather have your pick of prime spots of vacant apartments to choose from? Let's discuss the best times to start shopping for that new apartment you can call home.
May through September: 
The Summer months are the most favored months most people choose to relocate. For families, transferring kiddies from one school to another is less hassle in between school years. College is out for young adults. The weather is warm, and most days are full of sunshine. It just seems to be the perfect time to move.
However, rent prices are continually driven up as demand increases. The more demand, the higher the rent. Move-In specials are practically non-existent during these months. In fact, as Summer gives way to Fall, those prices will continue to rise as last-minute students become desperate to find somewhere to move before college classes begin.
The flip-side of the coin is the increase in selection of vacant apartments. As 30-day notices are submitted, some prime apartment locations become available. If you're wise enough to start shopping 30 to 60 days before you'll need to move, you'll likely have your choice of apartments from which to choose. For example, rather than having to take the only vacancy they have to offer, the leasing manager may be able to offer you a choice from three locations within the complex. You may be able to choose an apartment with a view of the pool, or one with newer appliances. Once you've made that decision, go ahead and submit your deposit to hold it until move-in day. Don't risk losing it to another shopper! This is prime relocation time! Apartments will not sit on the market long.
October through April:
Now that school has started, and holidays are fast approaching, vacancies start dwindling. There aren't many people who desire moving through the holidays. Travel and shopping become the focus for most people during these months. Holiday preparations deplete funds for most families. Use this to your advantage! As leasing slows down, property managers start seeking ways to lease those last few vacancies. They'll start running move-in specials and lowering rent amounts. Mid-November through January is the prime time to apartment shop! Move-in Specials can change day-to-day. However, if you fall in love with a certain apartment, we don't recommend trying to sit on it another day or two, in an attempt to reel in more savings. You're just as likely to lose it to another shopper doing the same thing! If you love it, drop that deposit off, and put your name on it.
However, with demand low, the choices of vacancies are limited, too. You may have to settle for the only vacancy they have available, rather than deciding between that coveted pool-view or updated appliances.
Another factor to consider is the right time of month to move-in. Most relocations happen at the beginning or end of the month. If you're not hard-set on a specific date, choosing the middle of the month may result in some savings. Property managers and maintenance teams are swamped with work the first and last weeks of each month. Never miss the opportunity to have a few days of free rent thrown into a deal. If it's not offered, ask your leasing manager if it would be beneficial to maintenance and management if your move-in day was staggered a few days behind the busiest move-in days of the month. Chances are, they'll work with you to find the best day for everyone involved. Being flexible may prove profitable.
Location, costs, and availability should all be considered as you shop for your new home.
Whatever you decide, choose what works best for you. Happy apartment hunting!