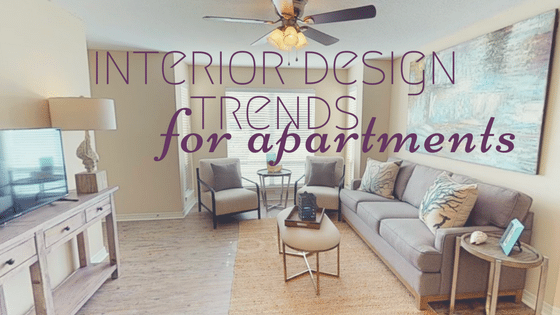 2018 has arrived with a bang! With Spring arriving, we all feel the need to shake things up by cleaning things up and throwing things out. As you go through your Spring cleaning, you'll probably find yourself wanting to spruce things up a bit around your Destin apartment. Spring is the perfect time of year for your living space to get a fresh start.
Start with a fresh coat of paint for all your living areas. This year's biggest decorating trend is strong colors and jewel tones. Think loud, vibrant, and bold! All the primary colors have made a huge comeback. Pick the brightest hues you can find: from sunshine yellow to terracotta orange to royal blue. The days of perfect coordination are over. Contrast and diversity are IN! Center a lush grass green couch between two vibrant yellow armchairs. Throw some geometric-patterned pillows on each furnishing in contrasting colors. Find some quirky items to throw on your coffee table for that extra pizazz.
Dark woods, caned chairs, and basket-weave are all trending in house décor as well. Mixed metals amongst your picture frames, lamp stands, and table legs will fit right in. Brass is HUGE right now! Those past inclinations of using the same metal throughout the room are gone. Décor which doubles as storage is always a winner. This year calls for decorations that aren't only aesthetically pleasing to the eye, but serving a purpose as well.  Consider buying the ottoman that comes with a hardwood tray to be used as a coffee table.
Wabi Sabi is BIG, this year. Wabi Sabi is the Japanese ideology of finding beauty in imperfections. It calls for modest living, accepting our flaws, and learning to love what we have, and to quit searching for "more". The practice of Kintsugi is an art form used in Japan when an object's breaks and repairs reflect that object's history. Repairs are usually made with powdered gold, platinum, or silver, thus increasing the object's value and enabling the past injury to enhance its value. In celebrating imperfections, we are able to decorate our homes with an effortless, lived-in appearance using natural texture and basic shapes and designs.
Patterns are big among pillows, blankets, and plants. Yes! Plants! Indoor plants are a huge hit this Spring. Patterned foliage will add dimension and life to any room. Plants such as Begonias, Peacock Plants, Pleomeles, and Moonvalley Friendship Plants are all very popular. They also make very good housewarming gifts for that new neighbor next door.
For your accent pillows and throw blankets, seek out those geometric designs. That Chevron pattern is outdated. Bring in big, bold circles in loud colors. Wall art reflects these same geometric lines to contrast with the furniture in valiant hues. Blankets, pillows, rugs, and even wall mirrors are also being trimmed in fringe trim. This year's hottest trend is a throwback to those funky days of the 60's and 70's.  As you pick out your furniture, think Partridge Family colors on the Jetsons' furniture. It gives off a minimalist appearance with purposeful use.
As you consider redecorating your bedroom space, keep in mind that Wabi Sabi trend. Keep your colors neutral with clean lines. The idea for your bedroom is to create a quiet space to encourage peace and quiet. Indulge in luxurious fabrics. Buy sheets that provide a layer of calming comfort. Furnishings should be kept natural. Sun-bleached wood is popular for 2018, along with wicker and rattan. Strategically place jute baskets in the corner for attractive storage. Accent pieces resembling pipework are favored and utilitarian. Keep it simple for your sleep spaces. Large, overstuffed pillows and comforters will provide that snuggly comfort you expect from your bedroom while allowing your décor to stay on trend. Less is more and always works for your sleep space. You're creating a quiet space to provide a sanctuary from the daily grind. Keep it simple in here.
As you wrap up your decorating adventure, keep in mind, this is a never-ending mission. Designers, brands, and trends will come and go. Always stick with using things you love to decorate your Destin apartment with. This is your home. Let it become a reflection of YOU.