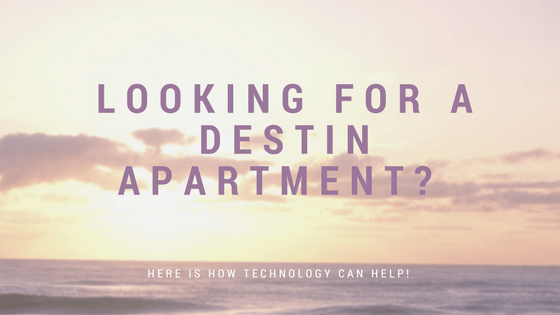 The future is here, no doubt about it. Advances in artificial intelligence, virtual reality, electronic payments and search engine technologies already affect almost every aspect of our lives, including the way we look for and rent apartments.
As an example, recent research indicates that about 70% of renters turn to the Internet when searching for a place to stay. According to the same study, about two-thirds of respondents rented an apartment they found online.
Needless to say, spending an hour online combing through, let's say, 20 rental listings as a starting point is less stressful and overwhelming than spending countless hours talking over the phone or wasting a few days visiting all the apartments in person.
If you're looking for a Destin apartment, technology is definitely the best ally you can find to turn the exhausting apartment hunting process into a rewarding experience. In a nutshell, technology can help you get the right apartment by:
Streamlining the process of finding a Destin apartment rental. 

In addition to providing rental data online, Internet Listing Services (ILS) websites like ApartmentGuide.com make available a series of technologies that empower renters to find rental units which match their budgets and lifestyles.By using different ILS tools, you can browse through various rental properties and filter listings based on the refinements that are most important to you. Focusing on the entire rental process, these platforms bridge the gaps between renters and rental properties, allowing you to narrow down your options and make the right choice, while cutting out the middleman, speeding up the renting process and saving the money you would have otherwise spent on the real estate broker's fees.

Providing access to ratings and reviews. 

The Internet is a great source of unbiased rental reviews, which can help you avoid getting stuck with an apartment you don't like, or worse, entering a legally binding contract that doesn't benefit you.By simply running an online search, you can find relevant and objective opinions about apartment complexes, condos and homes for rent in Destin as well as other locations across Florida. For instance, some of the things you can find out by reading online reviews range from what amenities and utilities are already included in the rent and how long it takes the landlord to resolve maintenance requests to what time of the day you should avoid going to the gym.

Helping you find roommates. 

If you cannot afford to rent a Destin apartment you really like, there are a few online services that can help you find one or more roommates. These websites connect the tenants who are looking for potential roommates to each other, making it simpler for them to find compatible people with whom they could share the rent.

Allowing you to calculate the cost of renting a Destin apartment. 

Nowadays, prospective renters can use online calculators to accurately estimate the cost of the rent plus the bills and draw up a budget of all the costs. Since renting a Destin apartment is a relatively long-term financial commitment, knowing all the costs upfront can help you figure out exactly how much rent you can afford.
At Sugarloaf Luxury Apartments, we also use advanced technologies which are becoming a must-have during apartment-hunting process. Our virtual tours, photo gallery and location marked on Google Map allow our potential renters to get a better idea of where they'll be living and what our apartments look like before they even set foot on our property. For a "real" tour of our Sugarloaf Luxury Apartments in Destin, FL, please call us today at (850)-837-3131.