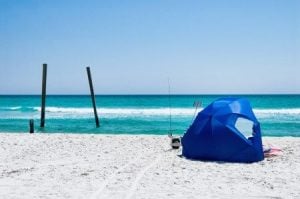 Destin, FL, is a beautiful city located on the Emerald Coast and rightfully renowned as "the world's luckiest fishing village." But this doesn't mean that every person who decides to buy a home or rent in Destin, FL, loves fishing. In fact, most of the young people who relocate to Destin choose this captivating location for other reasons, which are presented below.
Destin is an important city.
Enjoying a strategic position on the Emerald Coast, Destin is one of the principal cities in Florida's Metropolitan Statistical Area. Based on a recent report issued by the Area Development, a national trade publication, Destin has "continue[d] to flourish with commercial investors" even during the recession. What's more, Destin is an important tourist destination. According to recent statistics, more than 80 percent of the 4.5 million yearly visitors to the Emerald Coast spend at least one day in Destin.
Destin provides multiple employment and business opportunities.
Prominent among the best-performing metropolitan cities in Florida, Destin offers plenty of career opportunities, from white- and blue-collar jobs in different sectors, such as management, finance, legal, healthcare, law enforcement, education, computers and technology, engineering, construction, tourism and entertainment, to the possibility of starting your own business. To give you an idea of the local economy – and one more reason to move to and rent in Destin, FL – here are some statistics you should consider:
the unemployment rate in Destin is lower (4.1%) than the U.S. average (6.3%);
recent job growth (4.2%) exceeds the national average (1.18%) by more than 3%;
based on the latest forecasts, future job growth (44.3%) will exceed the U.S. average (36.1%) by 8.2%;
income per cap ($36,415) and household income ($61,872) is higher than the national average ($28,501 and $53,046, respectively).
Another essential aspect someone who wants to relocate to Destin should know is that there is no personal income tax.
Destin means much more than perfect weather.
Just like any other city in Florida, Destin enjoys a subtropical climate with mild southern breezes, which can make even the most beautiful cities in the US green with envy. Besides perfect weather, Destin boasts stunning beaches with sugar-white, powdery sand, the finest emerald-hued waters and incredibly diverse flora and fauna. But Destin also opens the door to varying landscapes. This means that you can take a mini-vacation anytime you want and visit beautiful natural wonders like rich forests, national parks, lakes, hidden springs, amazing underwater caves without having to leave the state or travel long distances.
Should you rent in Destin, FL, or buy?
When moving to a new location you're unfamiliar with, renting an apartment gives you the chance to test out the area, learn more about it and figure out if it fits your lifestyle without making a big financial commitment, such as taking out a mortgage to buy a new home. In addition, if you intend to move to another city within a few years, getting a mortgage to buy or build a home doesn't really make financial sense.
If you're thinking about relocating to the Emerald Coast, Destin is by far one of the best places to live and work. Whether you're interested in short- or long-term luxury apartment renting in Destin, FL, we invite you to get in touch with our team by calling (850)-837-3131 or by filing out our online form. Our friendly professionals are ready to offer you details about apartment amenities and features, discuss leasing terms and schedule your personalized tour.