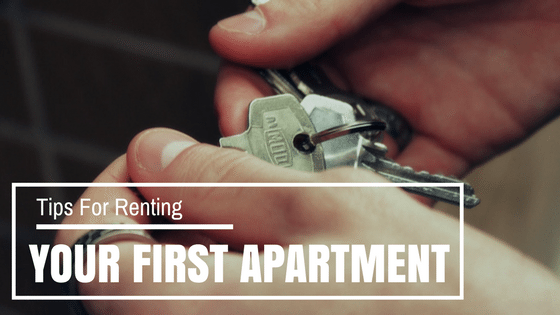 As overwhelming as it may seem, renting your first apartment can be a pleasant experience. For some people, however, apartment hunting quickly becomes stressful and confusing; even more so if a person is new to a city or lives in an area with low rental vacancy rates.  Since finding the right rental unit is often harder than many people think, here are a few tips that can help you break down this intimidating process into manageable steps.
Determine how much rent you can afford.
Many renting experts advise people to budget a maximum of 30% of their income for rent. But to come up with a realistic plan, make sure you also take into account utility bills, renters insurance, other loans, credit cards and day-to-day expenses.  Additionally, remember to ask the landlord if the cost of some utilities, such as water, Internet services, cable and garbage collection, is included in your monthly rent. Depending on your situation, the answer to these questions will allow you to thoroughly assess the apartment before falling in love with it.
As well, there are some upfront costs you may want to consider before you sign the lease, including the application fee, security deposit and moving expenses.
Decide what type of apartment you want.
When renting your first apartment, it all comes down to finding a place to call home. A few essential steps you can take to find the best apartment for you include, without being limited to:
making a list of all the things you want, such as amenities, facilities and location, which should be considered in relation to where you work;
visiting the property at various times during the day and in the evening;
inspecting the apartments and documenting existing damage;
considering safety and security; as an example, an apartment building that has different security systems, 24-hour electronic surveillance and an in-house courtesy officer is safer than a private rental property.
Get everything in writing.
Before signing the lease for your first apartment, it's critically important to ensure that all the expectations and promises have been included in the agreement, as previously discussed and agreed upon.
As the lease is a contract between you and the landlord, everything included is legally binding. On the other hand, the things that aren't clearly specified (e.g. specific repairs the landlord has agreed to make) can be denied later on.
After reviewing and signing the lease, make sure you keep a copy for your own records. Should you ever get into a disagreement with the landlord or property manager, having documentation can be a lifesaver.
Establish a good relationship with your landlord.
No matter what others might say, building a positive relationship with a potential landlord from the very beginning matters particularly in today's highly competitive rental market. The way you conduct yourself during apartment tours and phone conversations reflects what kind of tenant you'll be. Obviously, being polite and professional can go a long way, helping you get the apartment of your dreams sooner.
Although renting the perfect first apartment mostly depends on your research and negotiation skills, following the aforementioned tips will help you get organized and set your priorities straight.  If you're looking for your first apartment in Destin, FL, Sugarloaf Luxury Apartments can offer you more than just housing. In addition to the right floor plan for your needs, you'll be able to enjoy enviable amenities that take apartment living to the next level, without the frustration of the rental process. To schedule an apartment tour, please call our friendly staff today at (850)-837-3131!