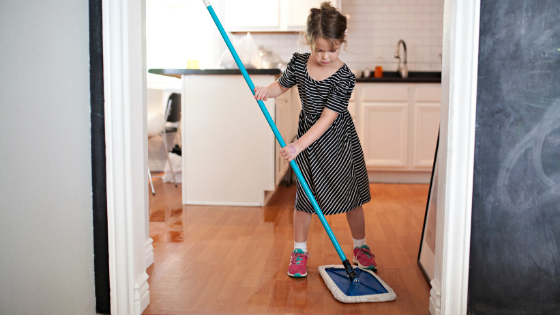 Are you someone that simply loves a clean home? Sometimes when life gets in the way it is not always possible to have a spotless house. Sometimes you have to be okay with "clean enough". Here are a few tips to help you keep up with your cleaning throughout the week without getting completely overwhelmed. 
Daily Cleaning
This sounds unobtainable right? Well, do not let it intimidate you! This can be as simple as sweeping the floors, doing one load of laundry and cooking dinner. This can all be done at the same time and doesn't take much time at all! Start the load of laundry, start dinner, and then grab your handy dandy Bissel Crosswave and get to those floors! If you pick up one item to make your life easier when cleaning it will be this tool created by Bissel. If you have pets it is a complete lifesaver. This amazing invention now makes it possible to vacuum and mop your floors AT THE SAME TIME! This definitely helps make every day cleaning obtainable but more importantly realistic. Even on your busiest days this will only take a few minutes and will make your weekend open up for more fun activities instead of constant deep cleaning. 
Where Have Your Shoes Been?
This question is something most people cannot answer truthfully. When you come through the door immediately take your shoes off and have a designated area that everyone can place their shoes. This will help decrease the amount of dirt that is tracked into the home. Having a small area rug will assist you in keeping the dirt contained to one spot. A friendly tip is to keep an old towel next to doors your furry friends might be coming through in order to wipe their paws. It's not like they can take their shoes off! 
Getting the Family Involved
One of the things most people struggle with is asking for help. At the end of the day, you just want help but you think it would be easier to just do it yourself instead of delegating things out. If you start teaching your children when they are younger it will be better for both of you in the long run though! When kids learn responsibility at a young age, it teaches them that they do not have a personal maid and that they have to help take care of the things they have in their life. It also helps mold their attitude and personality for the real world. As much as you want to do everything for your child, there will be a day that they have to do these things on their own and you don't want them out on their own and not knowing how to clean up after themselves. 
These are just a few simple tips to make your life easier and give you free time to hit the beach on the weekends! Would you rather be deep cleaning or sipping a margarita with your toes in the sand?