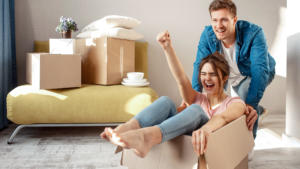 There is something almost surreal about moving into an apartment for the first time. But, after months of planning and searching for the best Destin apartment, you finally have your own place!
As exciting as this whole experience might be, acquiring all the things you need when you move into an apartment for the first time can be expensive. While the must-haves for your first rental apartment depend on whether you've rented a furnished or an unfurnished unit, the good news is that you don't have to get everything right away. However, the next seven items should be at the top of your move-in list.
Kitchenware
When you first move into a new apartment, you can start with a few spoons, forks, and knives to go with your take-out meals or food delivered to your door. But whether you're planning to cook or not, there are a few kitchen essentials you'll need, such as:
a few pots and pans,

cutting boards,

drinking glasses and coffee mugs,

plates and bowls,

a strainer,

can and bottle openers,

an oven-safe baking dish and baking sheet,

oven mitts,

food storage containers for those yummy leftovers,

several dish towels and cloths,

a kitchen trash can.
If you also need different kitchen appliances, such as a toaster oven, blender, food processor, hand mixer, slow cooker, and so on, you can buy them later.
Bedroom essentials
The bedroom is one of the most essential rooms in an apartment. After all, having a comfortable place to lie down after a busy day is a must. If you've already rented one of our Destin apartments and cannot afford to buy a bed frame at this time, it's fine to go only with a mattress for the time being. Here is a useful guide on how to choose the right mattress. 
In addition to knowing how to select the perfect mattress, here are a few more things you might need to make your bedroom a sleep haven:
Curtains or blinds if the bedroom doesn't have some sort of window coverings already (all of Sugarloaf's rooms come with stylish blinds.),

At least 2 sets of bedsheets,

A comforter or blanket,

1 or 2 pillows,

1 or 2 nightstand lamps.
Bathroom necessities
Besides the basic toiletries that you usually use, such as body wash, shampoo, deodorant, toothpaste, and toothbrush, you'll also need:
Bath towels and hand/face towels,

A shower curtain, if necessary,

A bath mat,

A toothbrush holder,

Toilet paper,

A toilet brush,

A toilet plunger,

A bathroom trash can.
When buying bathroom essentials, opting for matching towels that go well with your shower curtain, bath mat, and accessories is the easiest way to create stylish decor that ties your bathroom together.
Family room essentials
The family room is the ideal place not only to relax after a long day, but also to host different small gatherings. In case your friends are planning to visit you soon after you've moved in, here are a few items you might consider getting:
Inexpensive seating options

, like ottomans and floor cushions,

A few throw pillows,

Area rugs,

Curtains and extra lighting, if necessary,

Comfy couch if this is your first apartment,
Cleaning supplies
Most rental apartments come cleaned, like the spotless units at Sugarloaf Apartments. However, to make your space feel fresh and more inviting, you may want to do some cleaning before you start to unpack your belongings. Some essential cleaning supplies you should buy are:
A vacuum cleaner or a broom with a dustpan,

A mop or swifter,

A few cleaning rags or dust cloths,

An all-purpose cleaner,

Dish soap and dishwasher detergent,

Laundry detergent,

Bleach,

Stain remover.
A home toolkit
There's nothing as frustrating as starting to unpack your things only to find out you need to run to the hardware store. So, before you start unpacking, you'll want to have a few tools on hand, such as:
A set of good screwdrivers for those IKEA projects,

A hammer for hanging pictures,

Power strips and extension cords,

Nails and wall hooks,

Measuring tape,

Duct tape,

Light bulbs,

Batteries.
If you also have a few pictures you want to hang in your new apartment, here is our guide on how to do that in a renter-friendly way.
First-aid kit essentials
Accidents can happen when least expected. Sometimes, they occur during a long day of moving and unpacking. Thus, it's important to have a few first-aid kit essentials ready for move-in day. Make sure you include these items in your kit:
Band-aids and sterile gauze in various sizes,

Crepe bandage,

Cold compress,

Cotton balls,

Small scissors,

Tweezers,

Antiseptics,

Disposable sterile gloves,

Aspirin and/or other painkillers,

Eyewash,

Safety pins.
The easiest way to get all the first-aid supplies you need is to look for first-aid family kits that are portable and include everything needed to treat common injuries, from cuts to burns.
Since renting your first Destin apartment can feel overwhelming, we're here to make things easier for you! Whether you've already rented one of our units, or you're looking for your first apartment in Destin, FL, contact us today to let us know how we can help!