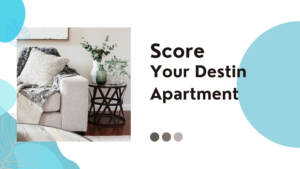 Regardless of what some people may think, not all rentals are created equal. In general, the apartment complexes that offer a wide range of amenities, accept pets, and/or are conveniently located in trendy areas, near different work opportunities, shopping centers, restaurants, schools, hospitals, and parks, receive a much larger number of applications. While this is good news for property management companies, increased competition among renters actually means that managers can afford to be very picky about the people they rent to.
If you're wondering how you can make your rental application stand out, here are a few things you can do to boost your chances of getting approved for your dream apartment in Destin, FL. 
Run a Credit Report Yourself
If you don't know whether you have a good or bad credit score, or you never checked your score before, make sure that you request a copy of your credit report before applying for a rental apartment. Why is this important? In short, most property management companies will check your credit score as part of the screening process in order to determine whether you're a responsible, trustworthy tenant.
Besides allowing you to identify and dispute any errors or inaccuracies, checking your credit report in advance will allow you to start working toward a better score, if necessary, or, at least, prepare to explain why you have a low credit score. You can obtain a free copy of your credit report from the three major credit bureaus: TransUnion, Equifax, and Experian.
Organize Your Finances
If you're planning on renting an apartment in Destin, FL, knowing exactly what you can afford is another important step to getting your rental application approved. While you can easily determine the budget you need, make sure that you have enough cash in the bank to cover additional expenses, such as the application fee, "good faith" deposit, and any other pre-approval charges that may apply in your case. As a rule of thumb, you should also have several months' worth of rent sitting in your bank account. If you don't earn enough to rent an apartment alone, or you don't have a good credit score, a guarantor could help you get approved for the apartment you want.
Gather All the Documents You Need
Applying online for an apartment can save tenants as well as apartment managers a lot of time. Unsurprisingly, many apartment complexes have moved their rental application process online. Knowing exactly all the details you need to provide and preparing your paperwork ahead of time will allow you to fill out the application form quickly and submit all the documents required at the same time. This can give you a competitive advantage as an agent may be able to process your application the very same day, provided you submit it early in the morning on a weekday.
Get Your Documents Organized Before Submitting Them
The companies that manage different apartment complexes usually receive a high number of applications they need to go through every single day. Ensuring that the person who will go through your file is able to find all of your documents easily can sometimes mean the difference between having your rental application processed faster and having it sent straight to the "rejection folder". By itemizing all the online documents in your introduction letter and renaming them starting with your name and then adding their description, you make sure that the staff can sort through your file quickly and easily. 
Follow Up By Phone or Email
After you submit your application, waiting is the hardest part. In general, you should hear back from the property manager within a couple of days. If it's been 3 days or more, and you still haven't heard back, a courteous follow-up call or email is a great way to draw attention to your application. If the apartment manager informs you that you didn't get the apartment, make sure that you use any constructive feedback you receive to increase your chances of scoring your dream apartment the next time you apply. But if your application has been accepted, you might be one of the first applicants the manager will consider for that apartment.
If you're trying to land your dream apartment in Destin, FL, one thing to remember is that the local housing market moves fast. This means that luxury apartments, especially those that are located in popular neighborhoods, tend to rent quickly. As a great deal isn't going to last too long, you want to be fast and sign the rental agreement as soon as possible. Once you've signed the agreement, you can start planning on turning your new apartment into a place you'd be proud to call home. If you haven't found your dream apartment yet, feel free to browse through our floor plans, check out our virtual tours, and get in touch with us to find out more about our rental vacancies!