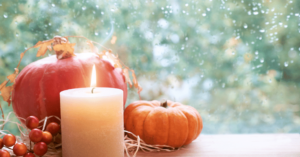 Fall is one of the most exciting times of the year for many reasons. The leaves are changing colors, the oppressive summer heat fades away, being replaced with crisp mornings and warm afternoons, the winter holidays are approaching, and you can buy pumpkin-spiced everything, from groceries to candles! But for many people, fall is also the perfect time to score a new dream apartment. If you wonder why, here are a few reasons that indicate how hunting for a rental apartment in the fall can work to your advantage.    
You Can Possibly Get a Lower Rental Rate
Conventional wisdom (and real-life experience) suggest that apartment hunting during the fall and winter is superior to hunting during the spring and summer months. Since fewer people are interested in moving during the fall, when the schools are in session and the holiday season is drawing near, rental rates could decrease during this time of year. In fact, according to a recent report from Rent.com, rents are typically lower between October and April in many cities across the country, including Destin, FL. While the weather doesn't really impact rent prices in this city, students as well as the winter holidays are two factors that can impact how the rental market plays out in this area.
Considering all the above, searching for a Destin apartment during the fall may present you with the opportunity to find a more affordable unit for rent than you would in the summer. In general, apartment complexes don't negotiate rental rates. However, some of them may be willing to offer a discounted security deposit or a reduced rental rate in order to fill any vacancies left before the holidays. If you're looking for a good deal on a Destin apartment this fall, feel free to get in touch with us to find out if there are any rental specials you could benefit from.
You Can Enjoy More Flexibility
Looking for a place to rent during this time of year may give you more bargaining power. To begin with, the property manager may agree to an earlier or later move-in date to better fit your schedule. As well, the fall signals the start of the slow season for many businesses, including different contractors, movers, and utility companies. This could translate into more attention from them, faster response times, and better prices.
But when moving during the fall, you can save even more money. Let's say that you're planning to rent an unfurnished apartment. In that case, you could take advantage of all those seasonal promotions and post-holiday sales. And since the temperatures are milder, you won't have to deal with the scorching summer heat while moving.
You Can Get a Better Feel for the Neighborhood
During the summer, many people are on vacation, so neighborhoods may feel a bit empty. But starting in September, people get back to their routines, such as going to school or work, getting involved in different community activities or social events, etc. Thus, whether you're moving between neighborhoods or relocating from another city or state, moving during the fall could offer you a more accurate picture of the atmosphere of the neighborhood.
You Can Estimate Utility Costs More Accurately
With the average low temperatures rarely dropping below the 40s even during the winter, Destin residents spend more money on air conditioning than they do on heating. Since the combination of rising energy prices and hot summers can really pinch your budget, renting an apartment during the fall, which starts right after the summer ends, may give you a clearer idea of the most recent cooling costs. Being able to better estimate the cost of utilities will allow you to create a more realistic budget for your next rental apartment in Destin, FL.
You Can Start Apartment Hunting Right Away and Enjoy the Holidays in the New Home
If you're planning to move during this time of year, the ideal time to begin the search for an apartment is at the end of the month prior to your desired move month. Let's say that you wish to move in December. In that case, you should start your apartment search during the last two weeks of November. Because most leases expire at the end of the month, the renters who don't want to renew their leases will be giving their 30-day notice during that time. However, waiting until the second week of the moving month could also be a lucrative strategy especially in the late fall and early winter when very few people are looking for an apartment.
The best time to rent depends on the type of apartment, your budget, and your moving flexibility. Since most people don't have the luxury of being able to plan their apartment hunt around a specific season, if you find yourself looking for a rental apartment this fall, try to make the most of it by getting in touch with our professionals today!